Tofu, soy milk, bean curd, and perhaps even soy ice cream are all staples in our diets in this part of the world. We think we know all there is to know about this humble legume because it is such an essential part of our diet.
A local alcoholic beverage company, SinFooTech, got us to look at soybeans in a new light. In addition, it has introduced a soy wine made from soy beans, or more precisely, soy whey, which they call a soy wine. Soy-based beverage Sachi is said to be the first of its kind in the world. Its name translates to "blossoming flowers and wisdom" in Japanese. In November of 2021, the product was officially unveiled.
Prof. Chua Jian Yong of the Department of Food Science and Technology at the National University of Singapore invented Sachi. During his PhD in 2016, Chua discovered that tofu producers often threw away soy whey, which is a nutritious byproduct of tofu production. To make the whey into a more sustainable food product, he decided to use it.
To begin the fermentation process and create alcohol, Chua obtained soy whey from a tofu plant and inoculated it with yeast. After an 18-38-day fermentation period, the yeast is killed with a flash heating process. It is then filtered to improve its clarity and texture. It has a low alcohol by volume (ABV) of 5.8%.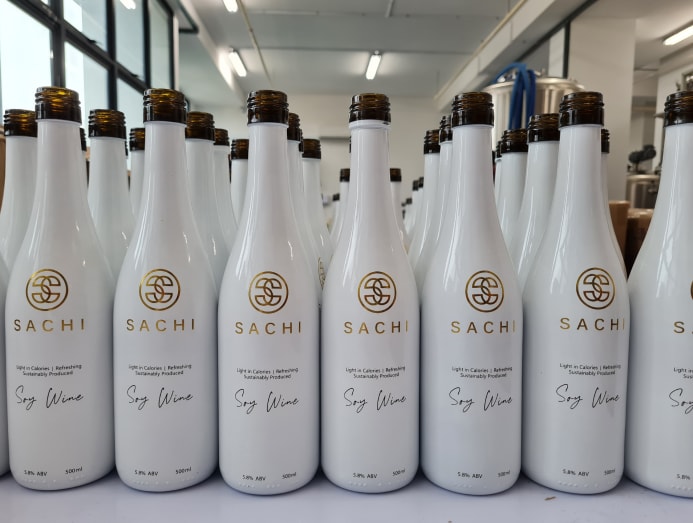 SinFooTech, the company co-founded by Chua and Jonathan Ng, a former junior college classmate, to handle the product's commercialization, opened an upscaling facility in Tuas in 2019 after conducting early trials in a laboratory at NUS.
It was previously reported that SinFooTech's former chief technology officer, Chua, had resigned and was replaced by Ng, who now serves as CEO. The fermentation method developed by Sachi is protected by a patent owned by NUS, but SinFooTech is authorized to use it. SinFooTech pays NUS a portion of Chua's royalties.
SinFooTech had a difficult time deciding what kind of alcoholic beverage Sachi belonged to. After all, no one had ever seen anything like it before. Because it isn't made from grapes, one could argue that it doesn't qualify as wine. Soy wine, Ng said, "captured the essence of how the product should be enjoyed" in their decision to name it that way.
Because rice wine, honey wine, and other similar products use the word 'wine' in their names to help consumers quickly grasp the concept of the product, entrepreneur Ng, who is 30 years old, explained why he chose to call Sachi "wine," even though it is not made from grapes.
Ng's friends were taken aback by Sachi's taste.
When they tasted the floral and fruity flavors, they were taken aback because they were expecting the taste of soy milk and soybeans.
At a launch party held at Club Street Wine Room, CNA Luxury was given the opportunity to sample Sachi. Because of its reddish hue, it reminded us of young Spanish sherry wine that has been allowed to oxidize in oak barrels for several years.
It tasted like a watered-down amontillado, with hints of nutty and doughy flavors. Sachi's lack of body structure and tannins makes it difficult to pair with heavy or fatty foods, making it a poor choice for a wine for oenophiles.
The mild umami notes of the wine enhance the flavor of cheeses of all kinds, as demonstrated during a wine pairing experiment.
Ng enjoys Sachi with the cashew-based vegan cheese from Nut Culture. Because of the soy wine's cooling effect, he was able to eat the cheese several more times before he was satisfied with it. Also, he loves it with sushi.
In order to accommodate the fact that most refrigerators have a chiller compartment that is between 0°C and 4°C, Ng developed Sachi to taste best at a serving temperature of 4°C.
To promote Sachi as a healthier alternative to wine, SinFooTech claims that each serving of Sachi contains only 70 calories and is high in antioxidants.
A new sparkling soy wine is being tested by Ng, who claims that "adventurous wine drinkers and non-wine drinkers who want a healthier, more sustainable way of drinking will find that Sachi fits into their lifestyle needs".
Furthermore, he said, "We are targeting a new generation of lifestyle connoisseurs, regardless of age; people who feel strongly about positive social change."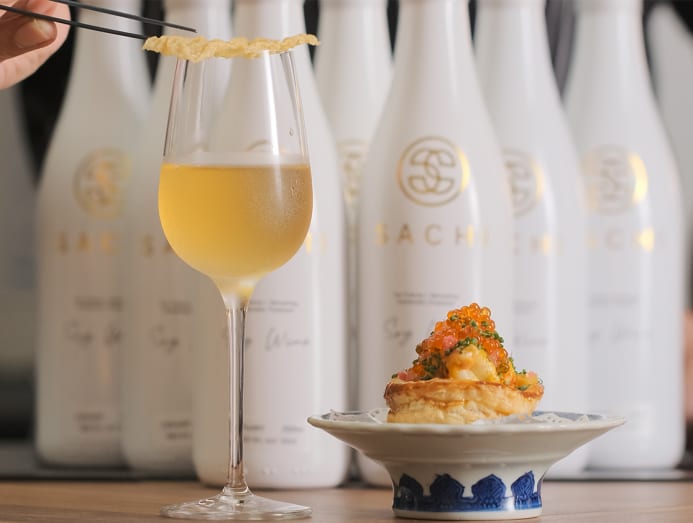 At only S$38, Sachi can be purchased from both sachi.sg and fairprice, respectively (500ml)