I didn't realise until I started research for this article that 42-year-old Singaporean architect Pan Yi Cheng had designed spaces for several friends of mine – spaces I had sat in countless times.
If anyone remembers Willin Low's Wild Rocket restaurant, the cave of complex interlocking timber is a Pan design. As I dug more into his portfolio, I found Pan's design's striking, organic and thoughtful. More than just functional design, there is a clear sense of narrative, of storytelling, that is foundational in his approach to designing a space, be it an office, a restaurant, a boutique or a house.
What has made Produce, Pan's most highly recognised studio (he has three – the other two are named Type0 and Superstructure), notable, on top of the strength of Pan's designs, is that it was the first studio set-up with full prototyping capabilities.
Pan calls it a "design and make studio" in that they can create and produce bespoke solutions for clients. Most firms outsource all construction and prototyping, so having these capabilities in-house has allowed Pan and his team to be more creative and more experimental, while also championing sustainable materials.  
Related:
Meet the 'misfit' artist who dreamt up ART-ZOO, Singapore's coolest giant inflatable playgrounds
EVEN FROM YOUNG, WERE YOU ALWAYS INTO DESIGN?
I was into drawing, sculpting and making things with my hands. I loved doing school projects. I remember making a diorama of the solar system with a light bulb as the sun. 
WHAT DREW YOU TO ARCHITECTURE? 
I wanted to live in my drawings and I decided that architecture could be, for me, the highest form of art. 
YOU WERE PRETTY YOUNG WHEN YOU STARTED YOUR FIRST CONSULTANCY BUSINESS PAC. WHAT GAVE YOU THE CONFIDENCE TO WORK FOR YOURSELF?
I was 30. I was approached by a schoolmate whose family is a developer in China to start an office together. I had worked for four years in London and Amsterdam after I graduated. During this time I was involved with and led a couple of award-winning architectural competitions. I had a strong yearning to further my research on architecture and urbanism in real projects so when the opportunity arose, I leapt onto it. 
IS PRODUCE A METAMORPHOSIS OF PAC OR WAS IT A COMPLETELY DIFFERENT BUSINESS TO YOU? 
It was completely different. I had run PAC as design director for three years and the main type of projects where speculative urban design projects in China that were, unfortunately, too large and depended on a myriad of external relational circumstances that were beyond the premise of the project. So after three years, I had not accumulated any built portfolio and it was very difficult to pitch for building projects. We were rejected countless times not because of design but track record. 
At the end of 2012, we completed our only built project, which was the Xtra + Herman Miller Shop-in-shop at Parkmall. 
Produce was for me a decision to start anew. I wanted to satisfy my insatiable desire to bring to reality my ideas and I decided to start afresh by designing and making very small objects within our own means. Autonomy was central to the founding of Produce. I teamed up with three friends and invested in a CNC machine and laser cutter, and Produce became the first design and make workshop in Singapore.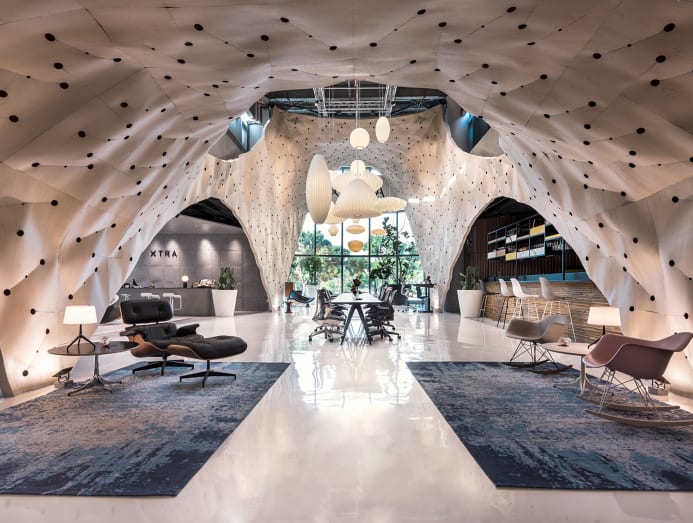 A LOT OF YOUR VERY IDENTIFIABLE WORK FEATURES PLYWOOD CRAFTED IN BEAUTIFUL WAYS. WHAT DRAWS YOU TO THIS MATERIAL?
I have a strong affinity to wood. I sculpted small pieces of wood objects as a child with my wood carving set and later when I had to survive in the Bruneian jungle as a soldier, I built a shelter, fire place, traps and utensils with timber I harvested from the Bruneian jungle, using just a parang and a switch blade. Now, I work with the CNC routing machine which generally processes panelled materials like plywood.
It is hard to say which came first, the materials or the tools. In some ways, I am limited by the tools that I have but at the same time I am always looking for ways we can push the boundaries of the material and the tools by working authentically with the material behaviours and altering the fabrication processes. This iterative loop between material and tool reminds me of carving.
WHAT IS YOUR APPROACH TO A DESIGN COMMISSION? WHAT IS YOUR CREATIVE PROCESS?
Every project is, in one way or other, a representation of capital. The design should therefore be a representation not just of the inherent values of the project hitherto, but also the aspirational values of the owner and the future users. 
Our design process typically starts with an analysis of what are the essential attributes of the project's existence. Then we formulate strategies on how these attributes are transformed or adapted for existence within contemporaneous and future conditions. We believe that this process is non-prescriptive and allows us to develop narratives and methods that are contextual, relevant and that create a deeper sense of ownership for the projects' stakeholders.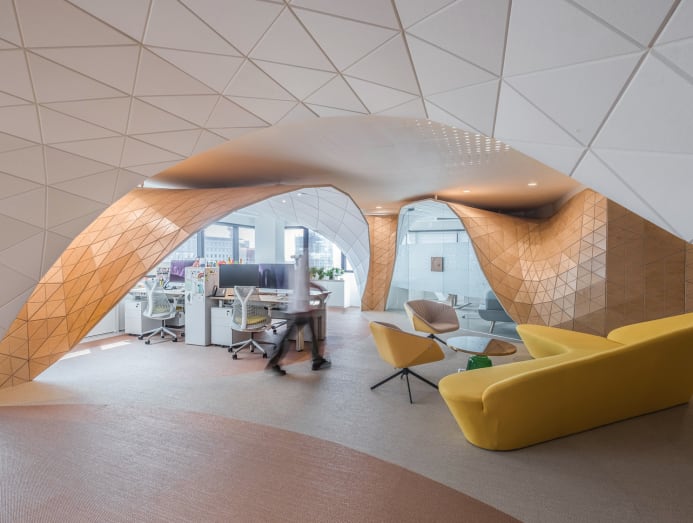 YOU'VE DONE SOME INTERESTING PROJECTS RANGING FROM LARGE HOMES TO SMALL EATERIES. WHAT KINDS OF PROJECTS DO ENJOY WORKING ON THE MOST?
I enjoy projects where owners have something important to say. I help translate them into built form. 
WHAT HAS BEEN THE MOST CHALLENGING PROJECT SO FAR?
The Hidden House project. It was challenging to design unique living environments for every member of the multi-generational family while creating a unifying identity for the household. 
YOUR GRADUATION PROJECT WAS EXHIBITED AT THE 2006 VENICE ARCHITECTURAL BIENNALE. THAT MUST HAVE BEEN AN AMAZING HONOUR? HOW DID THAT COME ABOUT? 
Our studio, then Diploma 06, led by Christopher Lee of Serie Architects was selected by the AA to be part of a symposium and debate on Architecture and the City. My project along with a two other unit mates' projects were chosen to be adapted for a hypothetical masterplan for slum rehabilitation in Dharavi, Mumbai. 
It was about two months of intense work getting the drawings, models and presentation ready. The symposium was two days long and it involved many architectural schools. There was lively discourse and exchange of ideas. Having my work exhibited in such a prestigious event and being part of the international fraternity of architects was an honour. 
CAN YOU EXPLAIN TO ME THE DIFFERENCES IN YOUR PRACTICES, BETWEEN TYPE0, PRODUCE AND SUPERSTRUCTURE? WHY 3 DIFFERENT STUDIOS?
Type0 Architecture focuses on the development and transformation of building types and typologies that is relevant and critical to the city. 
Produce is a design research studio looking at emerging phenomena, culture and situations that shapes our experience of the city. 
Superstructure aims to be at the forefront of technological production. We develop computational tools and processes for fabrication and assembly as well as investigate novel and smart systems for construction.
They are set up to cover different aspect within the means of production of Architecture. Respectively they are, Architecture and the City, content development and technological production.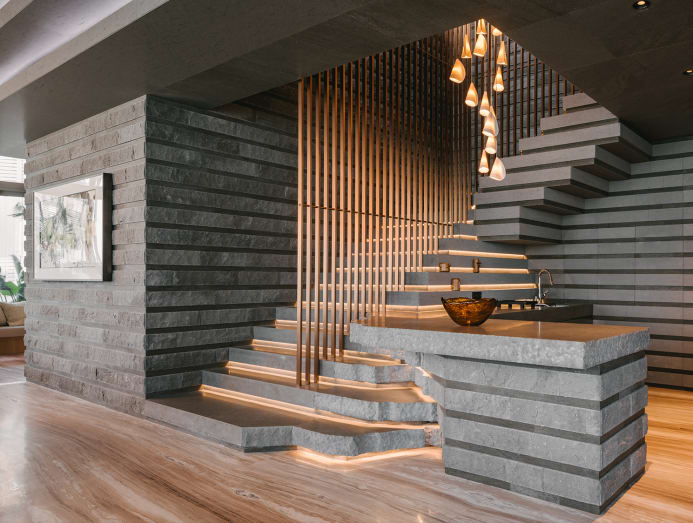 WHICH BUSINESS DO YOU FIND YOURSELF FOCUSING ON, OR ARE THEY ALL SO SYMBIOTIC THAT THEY BLEND TOGETHER?
I try to run the three companies as a collective studio. Admittedly it is not easy to have equal attention for each of them, therefore I have structured a computational team that is shared by all three companies. One of the primary roles of this team is to retain and archive the knowledge gained by each company. We hope to be able to combine the expertise of each company on a single project in the near future. 
I UNDERSTAND A BIG PART OF YOUR WORK IS IN PROMOTING SUSTAINABLE CARBON NEUTRAL BUILDING SOLUTIONS. HOW DO YOU DO THAT? 
We actively promote the use of renewable building materials such as mass engineered timber in our projects. We strongly believe that climate change and digitalisation will drive the development of architecture and the city going forward. One of the initiatives we have undertaken is to develop SVES (Sandwiched Variable Eggcrate Structure), a system of structural building components made using reconstituted plantation timber that are sourced regionally. We aim to produce these building components in small batches for smaller projects so as to encourage a more accelerated and widespread adoption of this carbon neutral building solution in the construction industry. 
WHAT IS THE HARDEST PART OF RUNNING A BUSINESS THAT YOU WISHED SOMEONE HAD TOLD YOU WHEN YOU WERE YOUNGER?
The hardest part is to be a good leader and mentor. Developing the human capital is delicate skill. 
ANY EXCITING PROJECTS THAT YOU ARE WORKING ON RIGHT NOW THAT YOU CAN SHARE?
We are looking forward to realising the first mass engineered timber villa project in Singapore. 
WHAT WOULD YOUR DREAM COMMISSION BE?
A carbon neutral micro grid township built in mass timber.
DesignSingapore Council's Good Design Research empowers designers to design for impact through research and experimentation, supported by funding and a wide network of knowledge partners. Read more.