When he was 20, Tan E-Reng bought his first vinyl record, Pet Shop Boys' Disco. It was meant to be a gift for his father but "funnily enough, the vinyl renaissance bug never caught my dad", he recalled. "So I ended up being the one listening to the record more."
Four years later, he boasts a collection of 121 records, ranging from classics such as "the odd The Police record" to rarities such as vaporwave classic Floral Shoppe.
"I have always just felt an affinity with having a physical copy of something, be it with books, music or art," explained the 24-year-old music student, who added that he's been funding his vinyl collecting bug with his part-time job as a music production teacher.
And he's far from the only one who's been amassing records in Singapore – just a quick Google search and a scroll through listicles of cool things to do here reveals an abundance of record stores.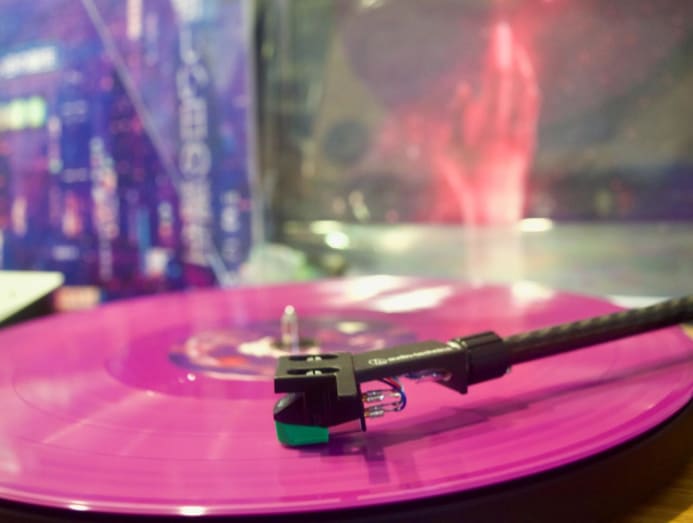 The market for records has steadily grown, and record shops have become not just a longtime haunt for hi-fi enthusiasts and lovers of all things nostalgic, but a haven for hipsters, jazz lovers and indie kids.
According to Luminate Data, a data provider for the music industry, vinyl record sales have been increasing year on year for more than 10 years in a row. In the US, vinyl sales have overtaken CD sales for the first time in 30 years, while in the UK, vinyl sales overtook CD sales for the first time in 35 years.
Although there are no available figures for Singapore, the ongoing vinyl boom can be seen in the numerous record stores that pop up in areas such as Kampung Glam, Peninsula Plaza and Joo Chiat.
STAN CULTURE AND SPECIAL EDITIONS
One of the vanguards is Roxy Records & Trading, which is the oldest record store in Singapore, having been founded in 1962, exactly 60 years ago last year. Located in Excelsior Shopping Centre, one of the main reasons the family business is still going strong today has to do with its flexibility – regular monthly shipments with the latest hip records for the younger set, and an ordering service for any music lover to get their fill.
"Honestly, (it's) young people who come to my store order things like Billie Eilish, Taylor Swift and similar artists," said Paul Lim, one of the brothers in the second generation running the business. 
"It's a cycle… vinyl records became popular again and then pop artists start producing records to meet the demand and it just keeps rising," he explained.
Two things have helped revive the interest in vinyl: The popularity of special editions and the "stan culture" that feeds on this.
Lim has witnessed the growing sale of vinyl "goodie bags", limited-run packages or additional merchandise – his most memorable being the Madonna 6LP box set, which cost around US$160 (S$217) "and has a much higher resale value".
And then there's stan culture. A portmanteau of "stalker" and "fan" (and a nod to the Eminem song Stan), the phenomenon now commonly associated with K-pop fans emerged in the late 2010s and became more commonplace during the middle of the decade.
Essentially, stan culture's explosion on the Internet resulted in a bigger market for musicians selling anything – which of course included vinyls.
There's a reason why the top selling vinyl records in 2021 belong to the likes of pop kings and queens such as Adele, Taylor Swift, Olivia Rodrigo and Billie Eilish. While their songs are readily available via streaming, pop stans buy these vinyl records as objects per se.
According to the New York Times, the main factor for albums to go No 1 on a chart is physical sales, where stans' purchasing of their favourite artiste's records have a tangible impact on pop culture as a whole.
A SIDE HUSTLE THAT BECAME SUCCESSFUL
And it's no different in Singapore. Ashley Wong, 19, owner of Gen Z record store Wildflower Wax Co revealed that "around 40 per cent of my sales are strictly pop albums".
Wong started Wildflower on Carousell as a side hustle during the last day of her O-Levels. "It was an extension of my music writing and music taste," she said.
Wildflower stocks a carefully selected list of records, mixing current in-demand pop music with more niche choices. Her own picks would include modern soul, a dance act from Belfast, as well as The Strokes' new album.
"I curated Wildflower in a very peculiar way because it was never meant to be a business. It was meant to be my passion project mixed with certain entrepreneurial and creative goals that I wanted to complete before I ended school. The records I stock hinge a lot on just the music that I'm exposed to and aware of, and music that I want to elevate to a larger scene among Singaporeans."
Starting a business while in school might be a daunting prospect for many, but Wong found her niche and dug in. Much like the resurgence of vintage clothing and 35mm film cameras, there were people looking for something more in their music experience.
"I always thought that there'd be a market of people who aren't just satisfied with the very digital, inauthentic experience of music streaming," said Wong, who handles everything by herself, including running deliveries and manning pop-up booths.
OLD SCHOOL JAPANESE MUSIC, ANYONE?
The vinyl boom has also helped introduce other types of genres to young audiophiles, from pressings of recording in Mandarin, Malay, Cantonese and more.
The wealth of music can be attributed to the long history of records in Singapore, which already had a strong industry back in the day. In fact, record production at Singapore's main record production plants had once reached one million discs per month.
Since the 1960s, vinyl records have thrived, and you can still find secondhand copies, yellowed sleeves and dated designs at record shops such as Vinyl Kakis, which is located at the basement of Excelsior Shopping Centre, three floors below Roxy. In contrast to Roxy and Wildflower, Vinyl Kakis focuses mostly on Japanese music.
Jason Jong, the shop's 26-year-old "permancer", aka permanent part-timer influencer, pointed to a row of shelves featuring a range of new and old titles from various Japanese genres, including funk, soul, city pop, anime, jazz, hip-hop and "enka", a traditional Japanese-type of ballad genre that began in the 1950s.
Vinyl Kakis was founded just five years ago by Cherilyn Tan and her spouse, who are both avid record collectors.
"Before the COVID-19 pandemic, the boss would frequently fly to Japan to do record shopping, and bring her curated selections back to the store," he explained.
He added: "There is a rich history of Japanese music in Singapore, actually. It used to be that in the 1980s, Cantonese and Hokkien music (amongst other genres) were very popular with Singaporeans. A good number of such music titles were actually covers and/or remakes of Japanese music." In fact, famous songstress Teresa Tang was known for covering Japanese pop songs.
"Technically, on a whole, Singaporeans have been very familiar with the melodies and rhythms of Japanese music. We do get a lot of both young and old customers coming in, because it's so engrained into Singapore's music scene.
"Sometimes trendy young people, when they drop by to look at anime soundtrack, city pop or jazz fusion, we like to interest them with other 'cool' genres like noise and experimental music. Japanese music can give you a wide variety of everything," said Jong.
Does nostalgia play a huge factor in young people coming to visit? Jong said it was hard to tell, because their demographic is so mixed.
But Wildflower's Wong said it could play a part. "From what I've seen from my customers, young people want to immortalise their feelings in some sort of tangible, physical art. Some people want nostalgia purely, but some also see vinyl as a way to increase their understanding/connection to their favourite art. Feeling a record with your fingers, which maybe hailed from 1971 – it's just a beautiful thing to see."
"IT JUST SPEAKS TO ME"
Only time will tell if vinyl records are here to stay (again) or if there will be another music collecting trend that'll take its place (cassettes and CDs, we're looking at you). But at the moment, it continues to have its day in the sun.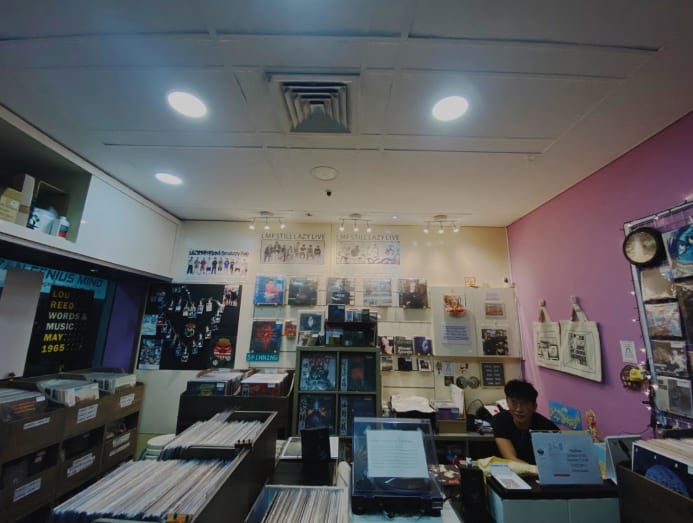 "I'm trying to save up for a real 1967 pressing of my favourite album, Pet Sounds by the Beach Boys, because it just means that much to me. Every serious vinyl collector has an album like that they want the ultimate pressing of," shared Wong.
As for Tan, he said: "As long as I am able to financially support this side hobby, I'll do it. It is a really fun and fulfilling hobby."
And it seems to have come full circle for him as well. After the Pet Shop Boys record he had original planned as a gift to his father ignited his passion for records, his parents eventually gave him two Pet Shop Boys albums, albeit in CD format.
And his current passion now are 70s-era Japanese records, which comprise a large part of his record collection, and vaporwave-electronic artiste George Clanton.
"The glittery synthesisers and bouncy basslines in the music… it just speaks to me."
This article was written as part of Republic Polytechnic's media practicum module collaboration with CNA Lifestyle.
Related: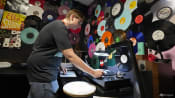 Manufacturers struggle to keep pace with vinyl record demand
Toys story: Who's keeping the retro gachapon machines in Singapore alive?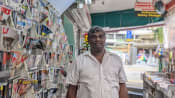 'A universe of magazines': Meet the man keeping Holland Village's iconic Thambi Magazine Store going
More stories from Republic Polytechnic's students: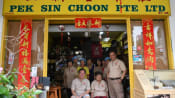 Tradition is their cup of tea: What's the story behind Pek Sin Choon in Chinatown?
This 26-year-old Singaporean started a cosmetics brand to help save endangered animals