There's a lot to live up to, when your brand name reads like a banner of blue-sky thinking. But the notion of originality is something that Creative Technology founder Sim Wong Hoo seems to single-mindedly cleave to, more than a decade after he walked away US$100 million (S$132 million) richer from a legal tussle with Apple over music player patents.
He's spent a good part of the past 20 years developing the critically acclaimed Super X-Fi (SXFI) technology, which whisked his tech firm out of obscurity two years ago. Its second generation iteration – enhanced with more precise personalisation – bagged seven awards at the 2020 Consumer Electronics Show in the US, while numerous products using the chip have been released.
SXFI, designed to recreate a multi-dimensional sound experience in headphones, could well be Sim's magnum opus. He proclaims that hyperrealistic audio – which Creative achieves by customising sound using an algorithm of individual head and ear profiles – will be the status quo; "like transitioning from black-and-white to colour television".
Anything less is anathema to him. "Most of us are accustomed to horrible cell phone sounds, but if I made my engineers listen to them, they would commit suicide," he joked, adding that digital audio can only be appreciated beyond the 24-bit depth range.
Not that he's fussing over the semantics of sound. For him, it's something that resonates on a visceral level. "I was watching a drama set in ancient China that ended with this really stupid dialogue, something cliched about the future. I found myself tearing up, and realised it was because of the soundtrack – turn off the music and you feel nothing. That's why it's important to have the best audio possible," he said.
 

View this post on Instagram

 
Consider the emotionally vulnerable multitudes sequestered at home, reliving halcyon days on the cue of Netflix's "ta-dum" intro, and that might explain Creative's steep rise in revenue. According to an unaudited financial statement, the company posted an 82 per cent year-on-year increase in gross profit for the first half of the year that ended in December, as well as a six-figure net profit – a stark contrast to its net loss of US$8.5 million for the same period the previous year.
It's a sharp turn of fortune, which signals Creative's US$100 million outlay into SXFI may be paying off. The company partly attributes this to improved online infrastructure. Perhaps this reflects their efforts to run in step with a new generation of consumers.
Last year, they released a gaming headset with a mode for better spatial perception in first-person shooter games. To trumpet SXFI technology, Creative partnered with the Badminton World Federation to broadcast tournaments in real time using SXFI Live technology.
At the same time, the 66-year-old reveals that there's an ace up his sleeve, when it comes to propitiating older fans who grew up with Creative's ubiquitous Sound Blaster technology. "It is an upcoming product involving huge R&D. We still value our loyal supporters, who purchase thousands of products every time we do a show in Singapore," he shared.
"I was watching a drama set in ancient China. I found myself tearing up, and realised it was because of the soundtrack – turn off the music and you feel nothing. That's why it's important to have the best audio possible."
SOUND OF A GENERATION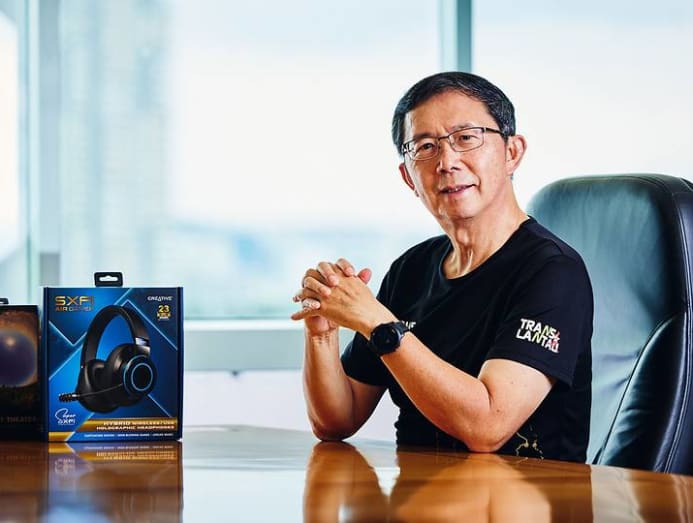 While Sound Blaster audio cards were first popularised by gamers in the 90s, you'd be hard-pressed to find a millennial who hasn't owned a pair of their speakers, through which they piped Napster-looted mash-ups. Used in Microsoft products, the sound cards transformed tinny PC audio into something less android and more dynamic – a game-changer for the progenitor of e-sports.
So it's understandable that an emotional connection to the brand has endured. Sim fondly remembers Dr Sbaitso, Creative's early Artificial Intelligence text-to-speech programme that served as a companion for awkward adolescents. Another voice recognition software featured an animated talking parrot voiced by Sim.
"I was standing beside a screen showing the parrot at an exhibition, and this American man started yelling about how much he hated the parrot, which his daughter played on repeat. So I gave him a beta-version of a talking Bambi that allowed him to record his own voice," he said, laughing.
 

View this post on Instagram

 
Such fodder for frothy entertainment is a far cry from the company's current focus on hardware. Sim says his best ideas materialise in dreams of a cinematic hue. "I have exhilarating dreams of levitating and swooping down from certain heights. I get no appreciation, floating over people who ignore me," he recounted. There's a childlike whimsy in the 66-year-old, who tells me he invented a low-tech contraption to correct his cycling posture – strings tied to bike handles.
Life isn't arid of inspiration, which he finds on solitary midnight jogs. "I enjoy solitude, so I was alright during the lockdown – I even cut my own hair," shared the soft-spoken bachelor, who practises qigong at home. But don't confuse independence for the idiosyncrasies of a misanthrope. The self-professed outlier contends that he's merely selective over his company.
"A lot of times, people yak, yak, yak in a big group without actually communicating. Someone usually goes off-tangent about their car or house without digesting what the other has said. Why should I just listen to people talking about their mundane lives?" 
It's like I'm speaking with a non-problematic version of Woody Allen, sans the neuroses.
Living by his own terms, he philosophises, entails relinquishing needs to remove anxiety – wisdom borrowed from Zen Buddhism. While it may be a stretch to call him an ascetic, the man who once claimed the mantle as Singapore's youngest billionaire has obviously gone against the grain by paring down. He's delisted Creative from Nasdaq, and swapped his Lexus – his most extravagant purchase – for a hybrid Toyota.
"I enjoy solitude, so I was alright during the lockdown – I even cut my own hair."

 
READ> Flying cars, pet robots: All the cool tech that caught our eye at CES 2021
STAY LEAN TO WEATHER ADVERSITY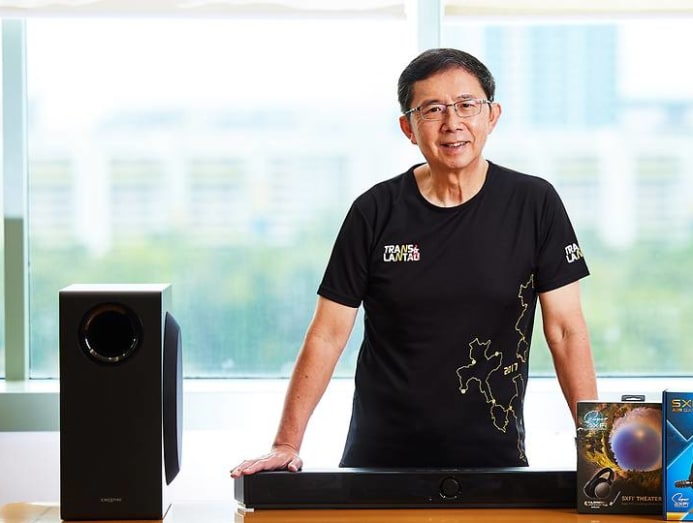 Presently, Sim's biggest worry is finding a successor for Creative, though there are potential candidates. "It's difficult to find creative minds in technology who can bring ideas to fruition. Such a CEO has to walk a very painful path because you are always in internal conflict having to rein yourself in due to technological limitations," he mused.
Thankfully, aside from supply chain issues and travel restrictions that halted in-person communication with overseas partners, business has been relatively unscathed by the pandemic.
"Financially, we are strong and have zero debt, so we can weather it quite well," he shared. His refrain for an age of uncertainty? "Stay lean and mean. You have to prepare for this kind of thing, because the world is getting more dangerous. It is almost a world war, as we try to create enemies among ourselves," he cautioned, alluding to geo-political tensions.
Financial prudence isn't alien to the former kampung boy, who grew up in a farm at Bukit Panjang and taught himself how to play the harmonica while performing household chores. And it's what he advises budding Singaporean technopreneurs to exercise.
 

View this post on Instagram

 
"A lot of companies here think they can be the next Google, but success stories about unicorns aren't real for the most part. Common folk won't have the same backing as multi-national companies. Stay lean and start with the local market – it's a jungle out there," he asserted.
For now, Creative is moving ahead at full tilt, working on its third-generation SXFI. Past grievances may have atrophied, too. I ask if he finds Steve Jobs-related questions annoyingly trite. After all, the narrative of the valiant Singaporean who took on Goliath must have wrung itself dry by now.
"I try not to mention the case as I've accepted their settlement, so I can't complain. They executed things better than us, and we were up against the world's best marketeer," he mused in typical tongue-in-cheek fashion.
Before leaving, I experience the Atmos-certified SXFI Carrier, a sound bar jointly developed with Dolby that was recently launched commercially. Together with a 10-inch wireless subwoofer, it packs a punch, with layers of sound reverberating crisply across the room as the video clip rolls. I hear shattered glass tinkling onto the ground around me, while a child's laughter drifts in from a distance. Holographic audio of the future doesn't quite sound like hype.
"A lot of companies here think they can be the next Google, but success stories about unicorns aren't real for the most part. Stay lean and start with the local market."