Captain Pete "Maverick" Mitchell, played by Tom Cruise, never getting a promotion in his 30 years of service might be one of life's mysteries, however, real-life United States military pilots CNA Lifestyle spoke with are anything but enigmatic. And while some of them might feel the need for speed – as seen in Top Gun and its sequel – they're definitely not parroting the iconic line before takeoff.
Set three decades after the events of the 1986 film Top Gun, the sequel Top Gun: Maverick sees Cruise reprising his role as "Maverick". This time, he has to train a crew of hotshot pilots to take on what could possibly be the most dangerous mission of their lives while revisiting old wounds, one of which comes in the form of trainee Bradley "Rooster" Bradshaw (Miles Teller), the son of his old wingman Nick "Goose" Bradshaw (played by Anthony Edwards in the first movie).
The film, which opens in Singapore on Wednesday (May 25), also stars Jon Hamm (Mad Men), Glen Powell (Hidden Figures), Jennifer Connelly (Snowpiercer) and Val Kilmer ("Iceman" in the original film).
At the movie's red carpet premiere at Shaw Theatres Lido on May 20, attendees included actual US pilots stationed in Singapore. And CNA Lifestyle couldn't pass up on the chance to interview two of them at the event.
Colonel Michael G Rider is a Command Pilot with more than 2,000 hours of flight time under his belt. He also happens to run the Office of Defense Cooperation for Singapore with the US Embassy here. Meanwhile, Lieutenant Mikaela Dosen is a naval pilot and the Air Operations Officer for the Commander, Logistics Group Western Pacific, supporting the US Navy's Seventh Fleet in the Pacific. 
While Col Rider watched the original movie in his youth, he also grew up around US Air Force (USAF) fighter pilots, including his father. As such, he said that Top Gun reinforced his desire to get into the USAF. On the other hand, Lt Dosen admitted that she had never watched the 1986 film.
Here's what they had to say about their lives as military pilots. While we had assumed they would be a little more rigid given their backgrounds, both pilots were surprisingly candid and gave answers that made for plenty of laughs.
WHAT'S YOUR AVERAGE DAY ON THE JOB?
Col Rider: I'll give you a typical day from when I instructed the Singapore Air Force's F-16 Pilots back at the Luke Air Force Base in Arizona. Typically, the day before is when we would do all our mission planning. On the day we are going to fly, we show up, get a weather brief, prepare all of our gear and do our flight brief. We get to our aircraft and fly our mission. The most important part after the execution is when we get back for our debrief. That's when we make sure we get all the important lessons learned, so we're better the next time we go out to air.
Lt Dosen: For me, I would say there isn't strictly an average day. When you're flying, the missions and hours can change, so sometimes you're flying in the middle of the night, and sometimes in the middle of the day. At the moment, I'm riding a desk, so it's not quite the office view I was accustomed to, but it lets me live here in Singapore, which was something I was really excited about!
TOM CRUISE IS MAVERICK, VAL KILMER IS ICEMAN – CAN YOU SHARE YOUR CALL SIGN?
Col Rider: Oh, sure. My call sign is "Hook", and that came from my (military) tour in Korea.
Lt Dosen: Mine's actually "Dodo". So my squadron, obviously, loved me a lot. (laughs) But unlike the Air Force, and some of the people in the movie, not everyone has a sexy call sign. Sometimes it's a silly thing you do or your worst mistake. Very rarely is it something cool like "Viper" (Tom Skerritt's character in the 1986 film).
WHAT ARE SOME MISCONCEPTIONS PEOPLE HAVE ABOUT NAVAL AVIATORS?
Lt Dosen: That they're all super cool! I mean, this has got to be the nerdiest group of guys I've ever hung out with. I studied political science in college, and I was definitely the outlier (amongst fellow pilots who studied topics like physics). It took a lot more effort for me to learn how aerodynamics worked or engines, and electrical systems.
Col Rider: There's definitely a friendly rivalry between the US Air Force pilots against Navy and Marine pilots. We like to joke that the Navy takes so much time to practise taking off and landing on a boat, that they're not actually very good at deploying the aircraft in combat. That's why the Air Force is there, to do the "real work".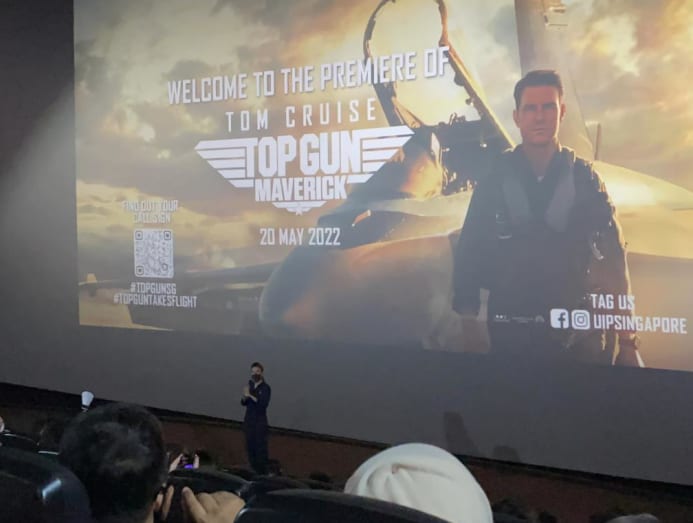 HAVE YOU EVER SAID "I FEEL THE NEED, THE NEED FOR SPEED" AT WORK AND NOT IRONICALLY?
Lt Dosen: That's probably a lot more possible for you, Colonel. I fly a P-8 Poseidon which is (a modified version of) a Boeing 737, so I mean it's not really speedy… Yeah, it's fast-ish, but we're not breaking any speed barriers.
Col Rider: Uh, no. I have not. Especially being in the Air Force, I have not said that.
Top Gun: Maverick is out in cinemas now.