When Tran Thi Ngoc Anh Hue moved from Vietnam to Singapore more than 10 years ago to study hairdressing, little did she expect that one day she'd be crowned the first-ever champion of Mediacorp's inaugural multi-language cooking competition.
Her reason for joining a local cooking competition like King Of Culinary was simple and straightforward. "I like to cook so I joined 三把刀 (San Ba Dao)," she told CNA Lifestyle. "Just seeing the chefs try my dish made me very happy."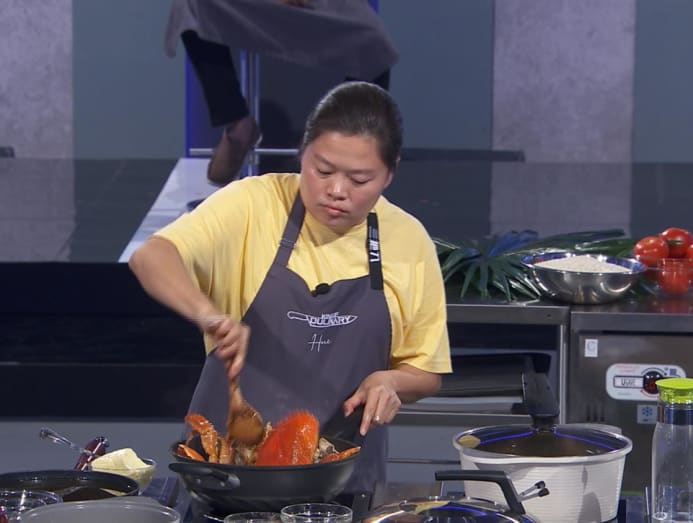 The 40-year-old housewife and mother of two won San Ba Dao – one of three cooking competitions that made up Phase One of King Of Culinary – where she faced off against professional-mentor chefs in four cook-off rounds.
Hue then moved on to Phase Two – The Final Showdown – to compete against the winners of the other two competitions: Gopica 'Rasathi' Rasiah for Raja Kaiya Vecha and Zakiyah Jaleel for Raja Kulinari.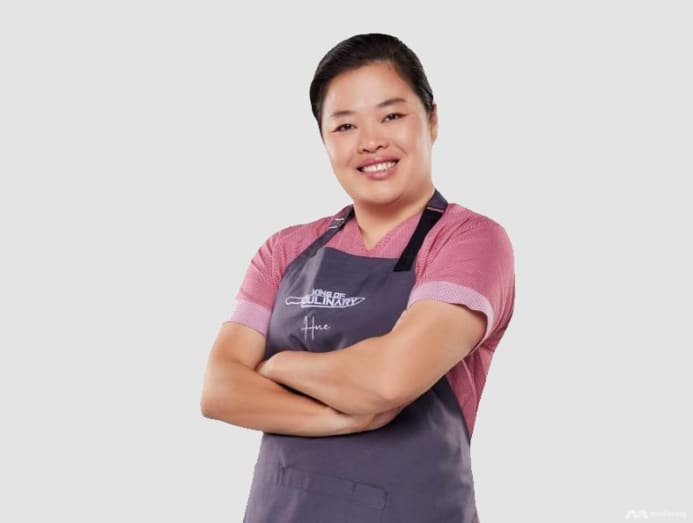 In the finale earlier this month, Hue emerged the big winner, taking home the S$10,000 cash prize and a coveted laser-etched King Of Culinary Grand Champion knife.
"The Grand Champion knife is my trophy so I will make a glass box to keep it for memory," she said.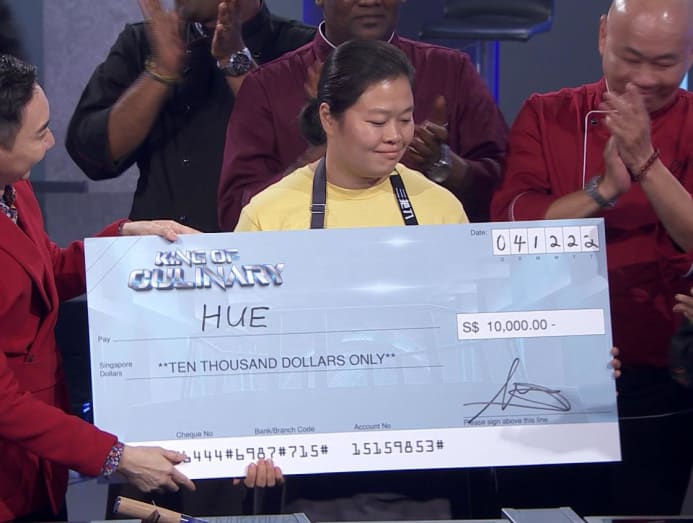 Because she's not entirely fluent in English and Mandarin, Hue kept a relatively low-key presence throughout the competition and didn't speak very much on camera. But that didn't mean she didn't have a good time on the show. 
"It was a nice show and I learnt many things, like how I can actually do a lot of things in 40 minutes," she said. "Before I joined the competition, I took a very long time to cook one dish!"
She added: "I miss the Mediacorp kitchen. I hope I can join San Ba Dao again, that was very fun for me!"
Hailing from Vietnam and being crowned the grand King Of Culinary winner, what would be Hue's tip for novice cooks out there looking for the easiest Vietnamese dish to attempt?
"The easiest and nicest dish would be salad – boiled vegetable and tofu sauce!" she shared.
And with Christmas just round the corner, we were curious what would be on Hue's Christmas menu. "Actually, my mother will cook. She cooks very well!" she shared. "Usually, she will cook ngoh hiang and it's delicious."
Hue also has some advice for people wanting to try cooking Vietnamese food at home – or any other cuisine, for that matter: "Do what you like, and do it with your heart".