Does anyone really need a mechanical timepiece that can calculate the exact times of sunrise and sunset at any given point on earth? Probably not.
Then again, when it comes to watch collecting, it has always been less a question of need than it is about an immense want – and it is in this segment of the Venn diagram that independent Swiss watchmaker Krayon comfortably resides.
Now retailing exclusively in Singapore and Asia Pacific at The Hour Glass, Krayon is the 10-year-old brainchild of Remi Maillat, an engineer, microtechnologist, and movement constructor known for his work in movement engineering and prototype adjustment for both luxury brands and independent watchmakers.
In 2017, four short years after its founding, the industry would see Maillat take Krayon to new grounds, stepping out from behind the scenes and into the spotlight with Everywhere, the brand's first timepiece to bear its name.
Related: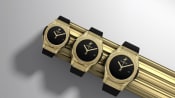 LVMH Watch Week 2023: 5 new releases that caught our eye
With a movement comprising 595 components encased in a 42mm by 11.7mm case, Everywhere presented the world with something it had never seen before: A wrist-sized astronomical calculator that, true to its name, could compute the exact times of sunrise and sunset anywhere in the globe; in addition to the duration of daylight and night time hours.
The automatic timepiece is surprisingly easy to use, given the complexity of its Universal Sunrise & Sunset movement. A pusher located on the left-hand side of the case allows its wearer to select from the watch's date, latitude, longitude, and UTC functions to input the data required for the calculation. The indicator for these four functions is located at the three o'clock position on the dial, and it shares the space elegantly – and so legibly – with the watch's 24-hour hours, central minutes, date, month, UTC, and latitude and longitude displays.
Krayon's Everywhere is a sophisticated feat of engineering and design that tells of its watchmaker's revolutionary vision and skills. Thus, when the brand unveiled its Everywhere Horizon timepiece one year later, it was of small wonder that the piece unique clinched the 2018 Grand Prix d'Horlogerie de Geneve's (GPHG) Innovation Prize.
Related: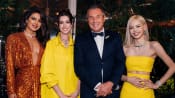 Bvlgari's CEO on celebrity power, evolution of luxury and the house's 'obsessive focus on ladies'
Fast forward to 2022 and Krayon would once again come to the world's attention with yet another GPHG accolade: The Calendar and Astronomy Watch Prize for its Anywhere watch, which streamlines the premise of its precursor with the sunrise and sunset times of a single location of its wearer's choosing – be it a favourite city, one's hometown, a place of sentimental importance, or anywhere else that pleases.
Like an envoy that hides its owner's secret in plain sight, Krayon's Anywhere timepiece presents clean, classicist looks that belie its technical prowess. The 39mm manual-wind watch's star function unfolds at the periphery of its dial: The bi-coloured annular zone, graced with a sun-shaped indicator that makes a full rotation every 24 hours, is in constant motion as the lengths of its coloured sectors adjust themselves according to the earth's position to the sun from its set location.
And if a change of location is required, Anywhere owners can take comfort in the fact that their watch comes with Krayon's promise to make the needed adjustments as often as one desires.
Equipped with Krayon's Calibre C0302 with 432 components to its name, Krayon's Anywhere timepiece (available in white gold and rose gold versions) turns the technical into poetry that can be enjoyed with each rising and setting of the sun – and no more effort than a quick flick of the wrist.
For more watch stories, click here
Related: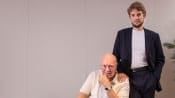 Industry icon Jean-Claude Biver and his son Pierre are launching a new independent watch brand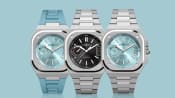 Meet the founders of Bell & Ross and its latest watch, the BR-X5
Rolex launches new Certified Pre-Owned watch programme