With Father's Day coming up, actor Zheng Geping and his son Calvert Tay were taken for a bouldering session for an episode of entertainment and lifestyle series #JustSwipeLah, during which they discussed their father-son bond.
Zheng and his wife, actress Hong Hui Fang, have two children: 22-year-old Calvert, and 26-year-old daughter Tay Ying.
Tay revealed that every year for Father's Day, he, together with his sister, would "organise something quietly and then surprise Dad with it."
Surprises are nice but, Zheng opined, "The best thing is watching the kids grow and having them show some filialness. I don't ask that they spend a lot of money on me. I would be happy with just a glass of water."
"Oh, that gives me an idea for this year," Tay exclaimed, to which his father replied, "Please don't do that. At least make it red wine!"
Related:
Cynthia Koh on 30 years in showbiz: 'I'm fearless at this point in time'
Judging from Tay's track record, this year's Father's Day surprise won't be gift-wrapped water.
"I'm proud to say my son is a very caring person," Zheng said. "Back when he was serving National Service, he didn't have much money. But he bought me a pair of shoes." He added, "I still wear them today. They are my precious treasure. An army boy bought them for me. Wow. I was so touched. I still am."
One of the things about his father that has left a deep impression on him is his sense of determination, Tay shared. Recalling how Zheng transformed his body for his role in the 2011 martial arts drama Kampong Ties, he said to his father, "Everything you ate was steamed, no salt. I realised your willpower was very strong."
But, after this tribute to Zheng's work ethic, Tay's father threw him a curveball.
"It would be better if Calvert didn't join me in this line of work," Zheng said, leaving Tay wide-eyed and open-mouthed. "Wow. I'm speechless," he said.
It is a bit rich, considering that all four members of their family are in acting.
But, Zheng clarified, "Calvert can compose music and sing. I can't do those things. And he has some talent in finance, a subject he's been studying. So, I reckon he can spend some time on those things. That's just advice, not instruction."
Tay hit back with some of his own advice for his dad: "It would be best if my father would rest more. He sometimes works up until midnight."
Catch this episode of #JustSwipeLah on meWATCH.
Related: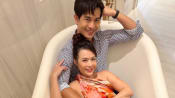 'Take along things she'll forget': Celebrity couples' secrets to long-lasting marriage
Related: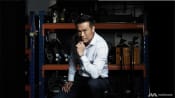 You're not young any more: Doctor tells 'hunkle' Zheng Geping to stop working out